The following pages and photographs are taken from the book To All Hands: an Amphibious Adventure by John Mason Brown. This book covers the life aboard a troop transport during the invasion of Sicily.  The book was published by Whittlesey House in late 1943. The last few chapters were written while aboard the Calvert and many of the photographs in the book are of the Calvert and her crew. ** The contents of this book are now in the public domain.
The author was a drama critic before joining the Navy. During Operation Husky (the invasion of Sicily) he was attached to Admiral Kirk's staff.  A Lieutenant at the time, he read the daily announcements and news over the public address system while aboard Kirk's flagship. The transcript of Lt. Brown's announcements form the bulk of the written content for this book.
Kirk's command ship en route to and during the invasion was the USS Ancon (AGC-4), code named Spelvin in this book. Admiral Kirk ("The Flag") joined the Calvert in Oran, North Africa after the invasion for the voyage back to Norfolk, VA. Here the Calvert's code name is Bond. Many of the pictures below were taken aboard the Calvert. My Grandfather, Sterling Funck, annotated his copy of this book with the notes I've added below.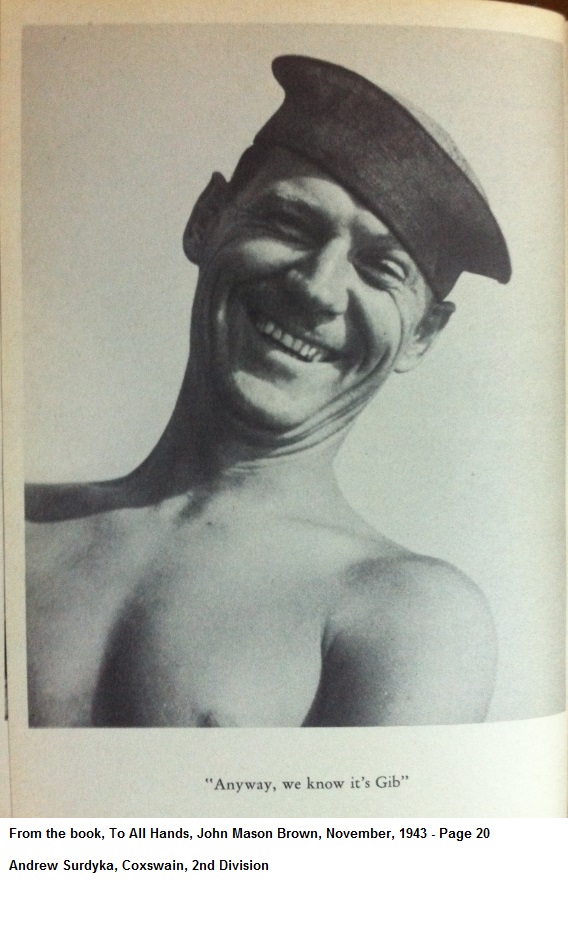 —
The following chapters are transcripts of Lt. Brown's announcements aboard the Calvert en route back to Norfolk, VA.