This page is dedicated to my grandfather, Sterling Funck (1927 – 2013).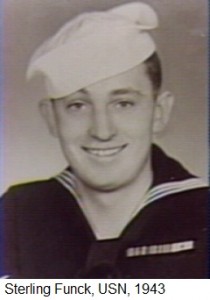 Sterling joined the Calvert's crew in late October 1942. He remained on the Calvert until August 1944 when he was transferred back to the states for a series of short-term assignments. While aboard the Calvert he participated in amphibious operations spanning the African, European, and Pacific campaigns.
Sterling served as a member of the 2nd Deck Division and a landing craft coxswain of LCVPs, LCMs, and the Captain's gig during his time aboard the Calvert.
As a landing craft coxswain, Sterling landed US troops to enemy beaches during the following invasions:
Safi, French Morocco – November, 1942
Scoglitti, Sicily – July, 1943
Makin Island, Gilbert Islands – November, 1943
Roi-Namur, Marshall Islands – February, 1944
Saipan Island, Mariana Islands – June, 1944
Tinian Island, Mariana Islands – July, 1944
Sterling's full WWII story is available as a free book download (.pdf document) here at The Adventures of a Landing Craft Coxswain. This book captures his stories and memories during his service aboard the USS Harry Lee (Jan '42 – Oct '42) and the USS Calvert (Oct '42 – Aug '44).
If it not been for Sterling's willingness to share his stories (including his copies of John Cole's Calversion) I may never have known of the Calvert's rich history and the ship's many years of service in the US Navy.
Selected Interviews of Sterling Funck:
Captain Whitfield "Bulldog" (USS Harry Lee, USS Calvert)
Captain Sweeney (USS Calvert)
Cracking the Captain's Gig (USS Calvert)
Daily Life Aboard the USS Calvert
Transporting German and Japanese Prisoners of War (USS Calvert)
"Running Out of Gas" (USS Harry Lee or USS Calvert)
Throwing the Chaplain's Boots Overboard (USS Calvert)
Liberty in Norfolk, VA, New York, San Diego, and San Francisco (USS Calvert)
Sterling's WWII-era Photographs
Additional Background on The Adventures of a Landing Craft Coxswain:
In 1998 I approached Sterling to learn about his experiences during World War II. At that time I had the idea that I might be able to produce a few pages of information that family members would find interesting regarding his role in the War. For various reasons, the project grew in scope beyond my original plans.
The Adventures of a Landing Craft Coxswain book is the result of my grandfather's willingness to share his stories, the availability of a tremendous amount of published material, as well as the many sources available on the Internet. The document is comprised of three key themes. First and foremost, it provides a record of Sterling's personal experiences during his wartime service. Second, it sets the context of Sterling's experiences within the larger operations and battles within which he participated. Third, it traces the evolution of the Navy's approach and execution of amphibious operations during World War II and describes the impact of these changes on Sterling's role as a landing craft coxswain aboard an Attack Transport.